About Us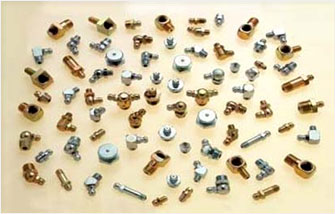 The ultimate resolution and determination of man completely devoted with commitment to the services and the unique vision of creating an innovative empire is known as Viral Engineers. Now emerging as an extensive manufacturer and exporter specifically of exact auto parts, Viral engineers strive for professional growth. Viral Engineers dealing with Hydraulic grease fittings or nipples was a great endeavour for Mr. Vinod Gala and his work devoted team of engineers. With qualified and proficient staff that depicts their expertise, success is surely to be achieved by Viral Engineers.
The Success stories
Viral Engineers was established in 1981 as a manufacturer and producer of precision Auto parts and Hydraulic Grease Fittings or Nipples. Till date, the company has reached new heights with accomplishments and endeavours as Viral Engineers are the top most manufacturers in this domain. Uncompromising outlook along with strategy planning is the foremost ideology and policy for success of business.
The new improved technologies, as Viral Engineers are keeping pace with it have aided to gain improvised products at reasonable as well as competitive rates. This is done with enhanced and improvised results to provide OEM Giants in India with Export of precision auto parts. The hydraulic gas fittings or nipples are directly related to Australia, USA, Germany and other European countries.
Why Choose Viral Engineers
Viral Engineers abides by and is an ISO 9001:2008 certified company with its expertise in producing or manufacturing of Hydraulic Grease Fittings or Nipples. For maintaining the international quality with a global reach, several of the grease fittings with nipples are produced by Viral Engineers. These are manufactured with top quality material and are made on the basis of client's needs and requirements. These are also evaluated and assessed at every manufacturing stage on the basis of ISO 9001:2008 standards.
Precision By design
In case of all grease fittings as well as nipples the tip is only case hardened for maximum life to maintain extreme workloads.
Tight Fitting Ball check valve reduces and prevents dirt from entering the fitting.
Plating in the form of Zinc Plating or yellow or white along with Trivalent Plating is provided to guard against corrosion and long life of the plating
The Springs used in the grease fittings or nipples comprise and constitute of Carbon Steel with stress reassured.
The grease fittings or nipples are Individually Evaluated and batch tested to 5000 PSI FOR Industrial purpose.
Other than normal and usual types grease fittings or nipples we also manufacture and are into the production of customised grease fittings  as required by various industries on the basis of specific requirements.