Salient Features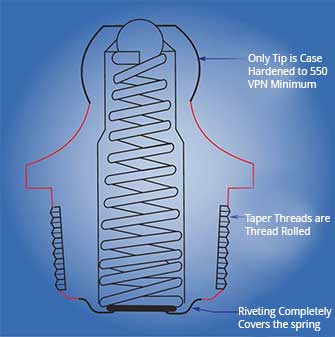 Normally Full Case hardened Grease Fittings/ Nipples tend to harm and damage the female part due to hardened threads of Grease Fitting / Nipple, Viral Engineers employs a process called Tip Hardening in which only the Tip of the Fitting / Nipple is hardened, thereby preventing damage / replacement of the entire female part.
Thred Rolled taper threads are stronger and durable due to work hardening and toughening of threads which is not achivable in cut thread process, as the threads become brittle on the periphery. Thread rolling process gives consistency in size and threads are well maintained as per gauge with smooth finish.
The Riveting is done in such a manner that a Dome shape is dormed. This type of Dome shaped Riveting completely covers the spring, securing the spring in its place.
"Quality through Perfection and Excellence through Hard work"